7 Tips On How To Update Kitchen Without Totally Remodeling It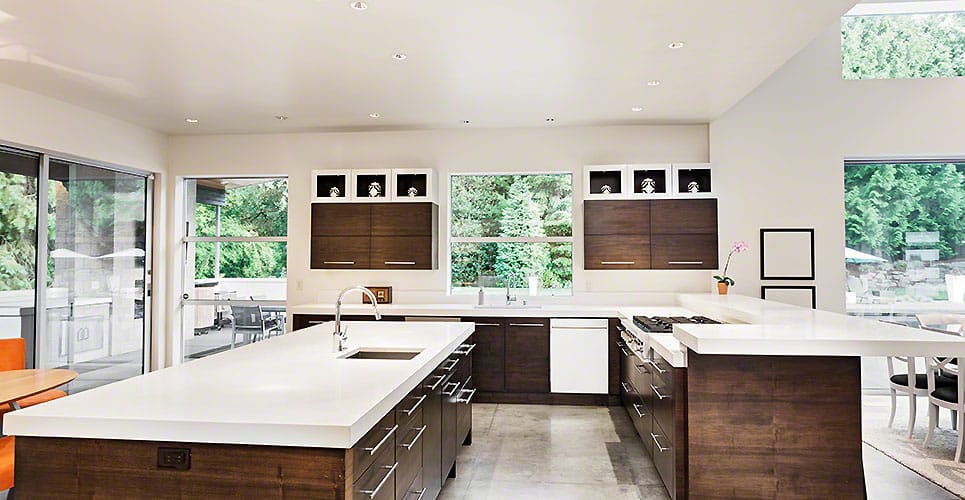 462 Views
January 4, 2020
Your kitchen is the area where you prepare meals and eat with your family, so it has to be in an aesthetically appealing condition like quartz worktops and impressive cabinets. Unfortunately, it is also the room which becomes outdated the quickest and breaks your bank in renovation. However, you do not need to stick with it because there are many ways you can splurge on your kitchen without completely remodeling it in a very little budget.
Paint the Cabinets
To instantly change the look and feel of your kitchen, you can get your cabinets painted or even DIY. You will just need a paint brush, paint cans and a high gloss seal and finish. Search around the market for the most trending colors in kitchen cabinets and get your kitchen updated with just painting.
Add Some Lighting
Lighting adds a lot of oomph in your kitchen and is also easy on the pocket. These days' pendent lights are in trend and looks classy. You can install pendant lights above the counters or above the kitchen island if you have or just in the center of the roof for a sophisticated touch. If you have transparent glass cabinets, then install spotlights inside the cabinets for a very trendy kitchen look and you can show off your glassware and crystal ware by turning on the lights.
Replace Your Hardware
You must have heard that even a little change goes a long way. Changing just your hardware, such as handles, drawer knobs, towel holders, and cabinet handles will make a huge difference and is a small investment. You can opt for unique colors and designs in your hardware and choose materials such as brass, nickel and stainless steel. Painting your cabinets along with changing your hardware will make your kitchen look completely renovated.
Utilize Your Empty Wall
If you have an empty wall then you can utilize it by adding open shelves to show off your expensive corning are set or your fabulous crystal ware. You can also add some kitchen art, such hang frames related to food and kitchen.
Replace Your Appliances
Replacing your appliances can be quite expensive but you can replace a major of your appliance or one which is very outdated. In the long run it will be beneficial as these days energy saving appliances are trending in the market. You can replace your refrigerator and washing machine to save energy and future bills and also update your kitchen. Stainless steel appliances look very classy in kitchens.
Paint the Walls
If your kitchen cabinets and accessories are in good condition then you can redo or repaint your walls to update your kitchen. Adding a bright color will instantly brighten up your kitchen.
Install Quartz Countertops
Your countertop goes through the most wear and tear in your kitchens and is also the most noticeable part of your kitchen. Installing a new countertop may take up a lot of money, but if you install quartz countertop then it is an affordable choice considering its many types and the major benefits it will offer to your kitchen.
Quartz is an engineered stone, which is made up of 90% of quartz and 10% of mineral, ligaments and colors. It is highly durable and hard and will not crack even when used roughly. This will make quartz last you a very long time. It is non-porous in nature, so no spills can penetrate inside the countertop, which means you do not need to worry about stubborn stains which put their ark on porous surfaces. Quartz countertops are very low maintenance and can be wiped and cleaned easily and do not need annual sealants or special care of any sort.
Due to its hard rock surface, it is aloes heat resistant which means you can place your hot pots and pans without worrying a bit. They have a uniform feel and look and are smooth in texture and look the same throughout the countertop. Quartz countertops Cambria Reston are available in a variety of colors and beautiful designs to choose from, in fact they can imitate any expensive countertop material. Quartz is a great one time investment that will add value to your home as well.